Pink Zombie Studios is the gaming and in-house app development arm of RookSoft Ltd. Pink Zombie Studios aims to develop fun and colourful games and apps for various platforms including macOS, iOS, and Android.
A bunch of years back – possibly in 2011, although really, who can tell anymore what with old age creeping up on us 😛 – Fahim and I had a whole bunch of ideas of games and apps we wanted to develop. Fahim has been a developer for over 25 years by now, working in a Windows environment for the first 20 years, give or take, and working with iOS for the last seven or something. But neither of us was any good at graphic art, and really, to make a good app, you need good artwork. I suppose you don't really need it need it, but it does help.
In walks a graphic designer Fahim knew from another project, a graphic designer capable of making incredible artwork, and together with Fahim's programming, they figured they could make something out of this, so they joined forces and started talking about this joint venture. And I suggested calling it Pink Zombie Studios, and so Pink Zombie Studios was born. And out of that, Shufflefrenzy was created.
But then that graphic designer had some of his own projects that he wanted to work on, so they reluctantly parted ways to work on their own thing. Fahim and I still stink at graphic art, but I decided I'd give it a try at learning how to do it anyway. So I started. That was back when we lived in Singapore in 2012.
I'm still not very good at artwork, although Fahim will argue with me over that. I think it's great that he thinks that highly of me, but I know that it's lacking and I need to work on it. But meanwhile, I create artwork anyway, and we develop our games and other apps. The apps we create are generally borne out of our own need for a specific app with specific features. And so it goes.
---
Pink Zombies
Coders, App Developers, Apple Eaters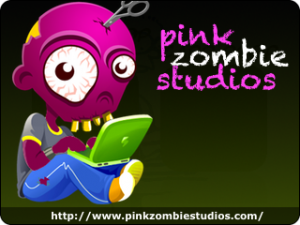 We keep our zombies in the basement – it's safest for them there where no one will try to kill them. You know, I blame all those movies and television shows like Van Helsing, Walking Dead, 28 Days Later, and Shaun of the Dead, although Shaun of the Dead started getting the right idea. Warm Bodies got it even closer.
Zombies aren't our enemy, people! Zombies are a misunderstood people, and they don't even need to eat brainz as long as we keep their brains active and functioning. Well, functioning as best as zombies can function. You know what they love to eat, though? Apples. Lots and lots of apples, preferably Fuji or Gala or, if you can get them, Envy. I tell you, those Envy apples? They loooooooove! And as long as we keep them in all the apples they want, we can train them to be good little workers, coding apps to help us take over the world… Uh, that is, I mean, coding apps to help people. Yeah, yeah, that's it…
But man, that grocery bill sure is high…
---
Fahim Farook
Developer Extraordinaire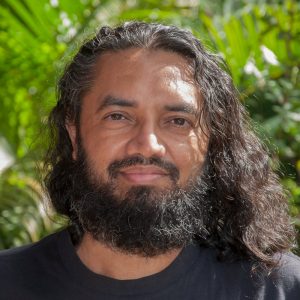 Fahim is a jack-of-all-trades. He worked in IT from programming to systems anlaysis to systems administration to product management. He's also been a freelance journalist and editor, a television producer, script writer, and a few other things connected with media.
But at the end of the day, his abiding love is writing and computer programming. He's programmed in a variety of languages over the years – xBase, Java, Perl, SQL, VBScript, C/C++, PHP, Ruby, Delphi, ActionScript (Adobe AIR), and Objective-C (iPhone) to name a few. He's also done a fair amount of database work (both administration and development) in FoxPro, Oracle, mySQL, and Microsoft SQL Server.
He's also written for several national newspapers and magazines and had his own weekly and monthly columns with a few of these publications. He's had over two hundred articles published and his columns have run the gamut from computers and technology to the English language to Sri Lankan history. In fact, he was the editor of peace pages for national Sri Lankan newspapers in English, Sinhalese, and Tamil during the war.
At present, he's the author of two books – a humorous science fiction novel and an introductory book on coding for iOS which blends fact and fiction to make understanding programming a bit easier.
---
Laurie Ashton Farook
Bean Counter Extraordinaire, Admin Wunderkind, Writer of Business Plans & Proposals, Wannabe Graphic Artist, Mini Marketer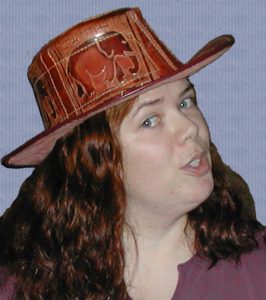 Laurie got her start as an accountant dating back to when she was a teenager working part time and summer jobs. Her accounting self took over as an adult and she worked as an accountant for a few years in industry. Eventually, she became self-employed, working for small and very small businesses with clients ranging from a restaurant, a discount shop, several construction companies, engineers, librarians, programmers, a medical supply company, and more. If Laurie were to claim a superpower, it would be accounting.
In 2003, she started working as a freelance writer/editor, writing for a few national magazines in Sri Lanka where she now lived. Later, she worked as the assistant editor of a tech magazine that she also wrote for, and in the middle of all of this, she wrote training manuals, marketing brochures, business plans, human resources manuals, and other documents for clients. Then, in 2012, she started learning about graphic design and illustration and branched out into serious QA (Quality Assurance) testing. Her desire to better QA Pink Zombie Studios' apps led to the development of QArc, a QA test tracking app on macOS.  More recently, she started learning about marketing.
---
RookSoft
Our Parent Company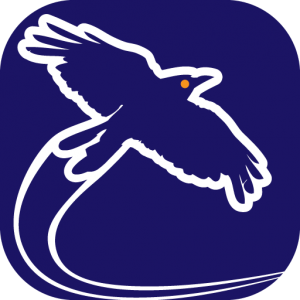 RookSoft is the parent company for Pink Zombie Studios. Through RookSoft, Fahim works for clients, developing apps, mostly for iOS (iPhones and iPads) but sometimes Android or other mobile platforms. Fahim has developed apps for the likes of Huffington Post/AOL, Salon.com, NowThisNews, Memrise, and Joor.
If you're interested in hiring Fahim to develop apps for you, you can use the contact form on the Pink Zombie Studios website or on the RookSoft.sg website. Fahim can provide you with a no-obligation quote on your project, so contact him today.