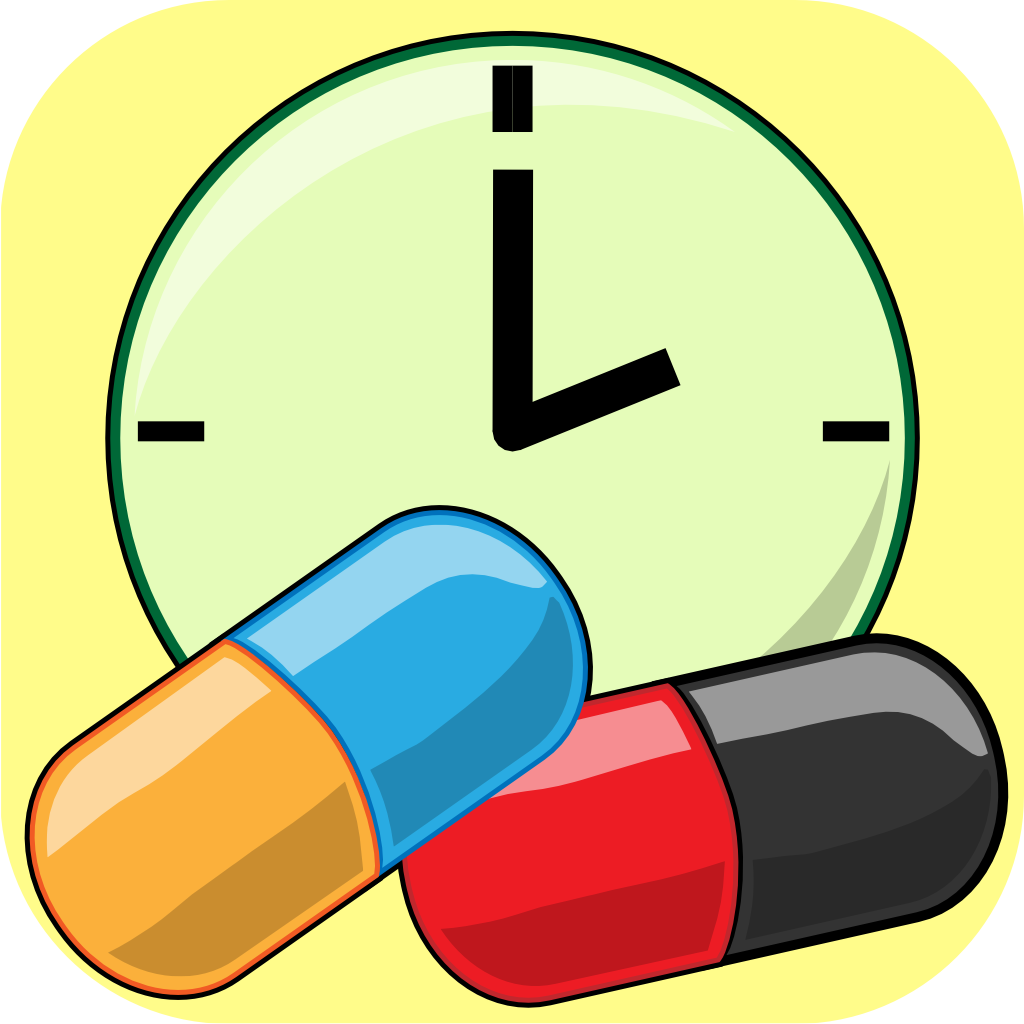 PillMinder is an app that helps you track your pills – when to take them, when you've taken them, and how many you have left.
Use the built-in alert system and PillMinder will remind you when to take your pills. Forgetting to take your pills will be a thing of the past!
And with Dynamic Text Support, the text can be sized as small or as large as Apple allows means this is easier than ever before to use for folks who are visually impaired.
Main
Do you take a lot of pills and find it hard to keep track of them all?
Do you want to know how many pills you have left of a given kind when you go shopping so that you can fill up your prescription?
Do you sometimes have trouble remembering whether you took your pills today?
If you said "Yes" to one (or more) of the above, then PillMinder is for you!
PillMinder allows you to easily keep track of when you take a pill – simply tap the handy status indicator button next to each pill and it's recorded. The status indicator also shows you when you're due to take any of your pills by changing the button from a red x (indicating that it's not time to take that pill yet) to a green check mark. What's more, the application keeps track of when you took a given pill and what your dosage was at that time. So you can always use the "History" button to go back and check what your dosage was over time and when your dosage changed, if relevant.
PillMinder also has an alert system built in, so you can set alerts for each of your pills. Once a day at 8am? Three times a day at 6am, 2pm, and 10pm? Doesn't matter how many alerts you need – you can set them all.
But that's not all. PillMinder also lets you keep track of how many pills you have and deducts from the inventory based on your dosage when you take a pill. So, the application will always have an updated count of how many pills you have left and you can see this information, as well as how many days you have pills left for, on the main screen. Basically, you can see all of your medication related information on one screen!
If you take more than one dose of a given pill for a given day, PillMinder can handle that too. Are your pill dosages not whole numbers? Not a problem! PillMinder will deal with that easily.
If you are not sure of how to use PillMinder, there's also a handy visual guide which is included in the app itself. Simply use the action button on the top right corner of the main screen to access the built-in help. If that isn't helpful enough, always feel free to contact us via the built-in Feedback which is also available via the action button.
Note: The basic version of the app is fully functional but is ad-supported. So the app will display an ad banner at the bottom of each screen. If you don't want to see the ads, you can upgrade to the Pro version, which removes the ad banners.
Features
PillMinder Features:
Keep detailed information on each of your medications.
Track the prescribed dosage of each pill. A full pill vs a half pill – no problem!
Track when you take each dosage, whether it's once a day or multiple times a day.
Track how many pills you have on hand.
Keep notes on each medication.
Take and store photos of the medications and pill bottles with your medication details.
View a history for each medication – when a pill was taken.
Correct the date and time entry for each pill taken if you made a mistake.
Fully functional.
Track an unlimited number of medications.
Look at the Help in-app if you need any help using the app.
Send us feedback if you have any questions, experience any bugs, or have any feature suggestions.
Free version – ad supported.
Pro version (paid – in-app purchase) has no advertising.
Screenshots
iPhone Screenshots (Tap on an image to see a larger version.)
FAQs
Version History
Version 2.5 – 26 Jun 2019
Bug fixes and updating to support the latest iOS version.
Dynamic type support.
New notifications to remind you when to take pills.
UI cleanup and enhancements.
Version 2.2.1 – 12 November 2017
Fixed a crash when adding pill images on an iPad.
Version 2.2 – 5 November 2017
Updated for iPhone X and iOS 11.
Added ability to select pill images from the photo library in addition to taking pictures with the camera.
Fixed pill description not being saved/updated correctly.
Added a feedback method so that you can send bug reports and feature requests via email.
Version 2.1.2 – 8 October 2014
Re-compiled for iOS 8 since there were reports of crashes on specific devices under iOS 8.
Fixed a few crashes seen on user devices due to special cases.
Fixed a minor logical bug
Updated Feedback mechanism.
Version 2.1.1 – 2 May 2014
Fixes for a few crashes seen in the previous release.
A fix for an issue where apps such as Battery Doctor could remove your savd pill data if you use the clean up functionality.
A few minor tweaks to the overall functionality.
Version 2.1 – 2 April 2014
Added hints to all the main pill management screens so that the app is easier to use.
A bug related to restoring previous purchases has now been fixed.
 Version 2.0.1 – 28 March 2014
A quick fix to a bug that exists when you update from an older version of PillMinder. The old data would not appear after the upgrade. This version coipes the old data from the old location so that the app works correctly again.
Warning: If you upgraded from an older version of PillMinder to 2.0, lost your data, and then re-entered the data, please do not upgrade to this version.
Version 2.0 – 27 March 2014
Completely revamped user interface for iOS 7 compatibility.
PillMinder is now a unversal app – it will work on both iPhone and iPad!
The free version of the app now allows you to add as many pills as you want – no limit! However, the app will now display an ad banner at the bottom of each screen.
The ad banner can be removed by purchased the Pro version of the app.
Version 1.2 – 20 April 2011
Added automatic display of whether a pill can be taken or not based on "Doses Per Day".
Added auto-alerts for pills based on "Doses Per Day".
Bug fixes.
Version 1.1 – 29 December 2009
Added description field to store detailed descriptions about each pill.
Added the ability to add one or more images for each pill for easy identification of pills.
Version 1.0 – 5 December 2009